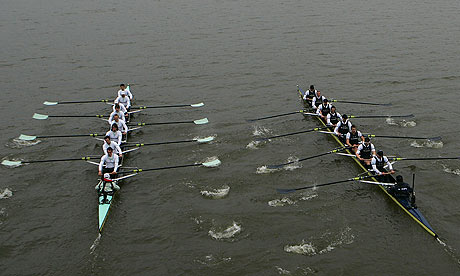 I'm going out on a limb here with my stance that underdog Cambridge will win this year's Boat Race.
The primary reason: Yes, it is generally an advantage to have a heavier crew and Oxford has the heaviest one in the history of the Boat Race. (The reason is that you race downstream on the Thames and there's a certain amount of oomph that weight provides.) Yet Oxford has a guy who weighs 16st 10, which is 234 lbs. But they also have a guy who weighs only 187 lbs. And they have a giant and a short guy (short in this context is 6'1"). I don't think that boat selection is going to work out for them.
So while the Dark Blues have more internationals with Olympic and World Championship experience under their belts, Boat Race stuff is weird, so cheer on the good guys in Light Blue to victory, I hope!
Now I have to figure out how quickly Sunday morning's service needs to be so that I can watch it...