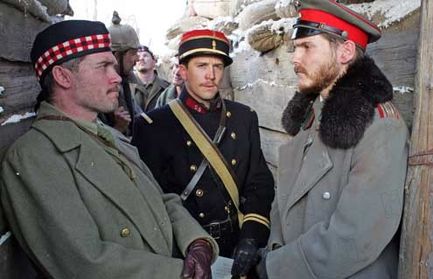 I work with Aussies, and one of them used the phrase "circuit breaker" in conversation the other day. I know what that is in electricity, and in the context realised that this is roughly the same as "short circuit" in American usage. It meant to change the terms of the debate, to ask a new question. This is what the Gospel does, and on Sunday I was reminded of an example of it in history.
At the Christ Church service of Lessons & Carols, we had the children to the front of the church building to light the Advent wreath. "Silent Night" was sung as the kids went to their programs downstairs. Some friends in the church are a wonderful German family, and the dad sang "Stille Nacht" to his young son while the rest of us sang "Silent Night".
How lovely, I thought, he's singing it in the German translation. Then I caught myself. Of course, it's a German carol, not an English one! An Austrian priest wrote it around 1818 and it was translated into English about 35-40 years later. I was singing the translation, not him.
There is the wonderful account of war weary troops on Christmas Eve during World War I stopping fighting, exchanging greetings, playing football/soccer, and singing "Silent Night" together in German and English. A rather good film, "Joyeux Noel", portrays Scots, Germans and French enjoying a Christmas Eve truce.
Silent night, holy night,
All is calm, all is bright
Round yon virgin mother and Child.
Holy Infant, so tender and mild,
Sleep in heavenly peace,
Sleep in heavenly peace.
Silent night, holy night,
Shepherds quake at the sight;
Glories stream from heaven afar,
Heavenly hosts sing Alleluia!
Christ the Savior is born,
Christ the Savior is born!
Silent night, holy night,
Son of God, love's pure light;
Radiant beams from Thy holy face
With the dawn of redeeming grace,
Jesus, Lord, at Thy birth,
Jesus, Lord, at Thy birth.
In the midst of the killing machine of the trenches, of suspicion and even in the midst of men doing their duty, it was the singing of "Stille Nacht" that provided a circuit breaker. Jesus himself often did this when conversing with those who were trying to pin him down (e.g., "Render unto Caesar what is Caesar's and unto God what is God's" or "Let he who is without sin cast the first stone").

But the very coming of Jesus is the ultimate circuit breaker in history, the dawn of redeeming grace.
So, the French film "Joyeux Noel" goes on our Netflix queue (click on title post to see an excerpt). Any carols in other languages that move you? Or any other circuit breaker moments you can relate? Do tell.